Do you know that you can get in a heart-pumping, sweat-dripping workout with just a few simple moves, without having to invest in bulky equipment or leave the comforts of your own home? We've compiled a list of some of the most effective no-equipment exercises that will definitely get your heart rate up and your muscles quivering.
It is easy to believe that if the conditions aren't ideal for exercise, you're better off postponing it until the time is right. However, there are numerous ways to exercise at home without the use of advanced fitness equipment.
Debunking the myth, you can achieve benefits with nothing more than just your own body. Bodyweight exercises can be just as beneficial as equipment-based exercises. Your own body could be an amazing gear for challenging your muscles when combined with a little gravity. Everyone should have a go-to exercise in their back pocket, whether they're searching for a cardio boost or want to train their legs, butt, core, arms, or all of the above.
So here we introduce you to 6 no-equipment exercises which are easy to do and effective at the same time.
So let's get your body moving.
1. Bodyweight squats
Squats with your bodyweight are a terrific method to train your legs, glutes, and arms all at the same time. If you don't have access to weights or prefer compound exercises over isolation, they're a great option.
HOW TO DO IT – 
To begin, stand with your feet shoulder-width apart, toes turned out slightly, and eyes forward. Then slowly lower your body by bending your knees and dropping your hips. Remember to keep your back straight and your heels flat on the floor.
Your knees should bend in the direction of your toes as you bend them. Your form has to be corrected if your knees are inside or flaring outwards.
Finally, when you reach the bottom, wait for a moment before pushing yourself back up to the starting position with the same technique you used to descend. Do at least 10-20 repetitions of this.
2. Walking Lunges
Walking lunges are an excellent leg-strengthening exercise. Your inner and outer thighs, hips, and core are all worked out as well. They're also a great way to lose weight and gain muscle. The best part is that they only take a few minutes to perform.
Walking lunges, like bodyweight squats, work your legs and butt (quadriceps, hamstrings, calves and glutes).
HOW TO DO IT:
Because you'll need space to walk, these are best done in a long corridor or hallway.
Take a deliberate large stride forward with your right leg, standing upright with your feet together. Then, by bending your knees, lower your hips to the floor. Both knees should be bent at 90 degrees.
Your back knee (in this case, your left) should be facing the ground but not touching it, and your front (right) knee should be pointed to the hallway's end.
3. Plank
The plank is a wonderful core exercise that works your core, abdominals, and lower back muscles all at the same time.
Holding this position will work your abs and core muscles (abdominal muscles). If this is too simple for you, increase the holding period or alternate the final two sets with side planks.
HOW TO DO IT:
When doing the plank, make sure your body is in a straight line and your core is engaged.
Your elbows should be able to rest on the floor, your back straight and your body should be in a perfectly straight position parallel to the floor.
4. Jumping Jacks
Jumping Jacks is an excellent way to burn calories and build strength without requiring any special equipment. They're one among the best exercises for shaping your body while also providing other heart-healthy benefits, such as enhanced blood flow and bone density.
HOW TO DO IT:
Begin by bringing your arms close to your body, then jumping and snapping your legs shoulder-width apart, clapping your hands above your head. Repeat for a total of 30 times for better results.
5. Pushups
One of the most effective bodyweight exercises is push-up. It engages practically all of your major muscles, including those in your chest, shoulders, arms, core, and legs. It also takes very little time to finish and requires very little equipment. Push-ups may be done everywhere, including the office, the park, and the beach.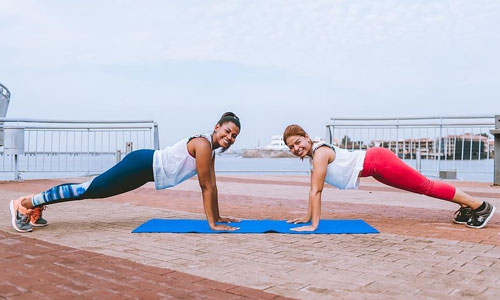 HOW TO DO IT
To begin, stand in a plank position with your hands slightly wider than your shoulders, your feet in a comfortable and balanced position (shoulder-width apart is sometimes comfortable), your bum down, and your back straight.
Make a big straight line with your body. Lower your entire body, especially your back, to the ground while keeping it straight. Keep your arms as close to your body as possible so that they don't flare out. Push your body back up to the plank position once you've reached maximum depth without contacting the ground.
Repeat this process ten times.
NO EQUIPMENT? NO WORRIES
If you're new to strength training, a basic workout done at home without any equipment is a wonderful place to start. Working with just your body weight allows you to get a feel for the movements. Before starting your routine, It is important that you prioritize safety over all other considerations. This includes performing the exercises correctly and not pushing yourself too hard if you experience pain. Finally, make sure your new workout programme is complemented by a well-balanced and healthy diet.