Did you know that your nails can reveal information about your overall health? A lesser-known fact is that our fingernails can provide insight into what's going on inside our bodies, including signs of life-taking diseases. Continue reading to find out what secrets your nails may be hiding.
Have you ever wondered why a chipped, brittle, or black-lined nail looks the way it does? Well, you'd be surprised to know that the health of your nails is intimately linked to how effectively your body functions in other areas. Nail health is usually an indicator of inadequate dietary intake or digestion in the general population. The most prevalent symptoms are brittle, weak, and peeling nails, which are more commonly the result of a poor diet than of systemic disease. Continue reading to find out what secrets your nails may hold.
Different Textures
1. BRITTLE NAILS
Rough, splitting nails that may also crack easily is one of the most commonly reported nail problems. Officially called onychoschizia, brittle nails are usually caused by repeated wetting and drying of your fingernails, so you should use gloves when getting your hands wet, such as when doing dishes. Brittle nails can also be a sign of hypothyroidism or iron deficiency in some conditions.
2. PEELING NAILS
External stress to the nail, such as using your nail as a tool, pressing too hard into the nail, or removing artificial nail lacquer, is most likely to blame. If you soak your hands in sudsy water for too long, your nails may peel. Internal reasons for peeling nails are uncommon, and they are rarely a medical emergency. If your nails are causing serious discomfort or bleeding in addition to peeling, you should seek medical attention right once.
Here's a tip for identifying whether the reason is internal or external: Are your toenails peeling as well? If this is the case, it could be due to an internal problem, such as an iron shortage. If not, the problem is most likely external.
3. PUFFED NAILS
Inflammation of the nail fold occurs when the skin around the nail becomes red and puffy. Lupus or similar connective tissue disorder could be at blame. Many factors can harm the skin around the edge of your nail, known as the nail fold. Doctors term it as paronychia when it becomes puffy and bloated, and it can be chronic or acute. Infection is the most common cause of acute paronychia. If your nail bed is puffy all the time, you most likely have a chemical reaction. Redness and inflammation of the nail fold can also be caused by some infection.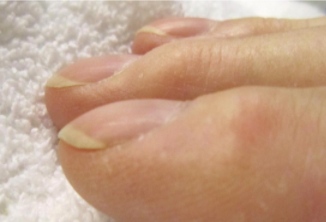 Different colours
1. PALE NAILS
Pale fingers and toenails are a common sign of ageing, though they can be caused by a variety of factors. Nearly three-quarters of individuals over the age of 60 had pale, dull nails, according to a random survey. Pale nails, on the other hand, can suggest more serious health issues in some people. Anaemia, congestive heart failure, liver disease, and malnutrition can all be signs of serious sickness with very pale nails. If your nails have become pale, rather than wondering what caused them, see your doctor for an evaluation.
2. YELLOW NAILS
Nails can turn yellow for a number of causes. Fungal infection is the most common cause. Tobacco can cause smokers' nails to yellow. Yellow nails may signify psoriasis, thyroid disorders, or diabetes if they don't respond to treatment.
'Yellow nail syndrome' (YNS) develops in people with severe lung disease and swelling of the limbs (lymphedema) in a small number of cases. it nearly always occurs in people over the age of 50. Most, if not all, of these patients' nails are yellowish. Occasionally, YNS vanishes on its own. If it doesn't, vitamin E, as well as medication, may assist.
3. WHITE NAILS
In any case, if all of your nails have the same strange white pattern, you should consult your doctor for further testing. Terry's nails are white nails with a pink band at the top of the nail bed, and they can indicate a major health problem. The lunula, Latin for "little moon," is the white half-moon region at the base of your nail. The lunula on Terry's nails blends in seamlessly with the rest of the nail. When this happens, it means your body's veins beneath your nail have shifted.
This symptom could be a sign of one of the following dangerous illnesses: Cirrhosis of the liver, Kidney failure, Heart failure. Although Terry's nails may indicate a dangerous condition, they can also be a natural aspect of ageing in elderly. Furthermore, some people have all-white fingernails or toenails for the rest of their lives, implying a harmless genetic feature. Get an evaluation from your doctor to rule out more serious problems.
FRET NOT! NAILS ARE JUST ONE ASPECT
It's usually not a cause for concern if your nails act upon their own without any other symptoms. Sometimes it is not even a big problem. However, if you notice any other unexplained symptoms, consult a healthcare expert to find out what's causing them. Once the underlying reasons for nail problems have been discovered, most of them are unproblematic to treat.