Regardless of what others may say, makeup, if done right, can be a fun addition to enhance your appearance. While going au naturale has its own charm and appeal, if you feel you are someone who enjoys indulging in even a bit of makeup, do not hold yourself back! Apart from having a job and looking our best at work. Ever wonder how independent boss ladies whom you look up to, who ooze out confidence 24/7, manage to look classy at the same time handling so many responsibilities? Usually, during our tiring day, we must work on our appearance for at least 30 to 40 minutes just to get it right for the next 9 to 10 hours at the office.
But don't worry; we're here to help you win the confidence game at work all day long without sacrificing sleep or running late to the office every morning.
Here's a 6-step easy makeup routine for your workdays! Having 6 steps sounds like a lot but trust the process as it will help you save time and earn more money.
1. CLEANSE, MOISTURIZE AND DO NOT FORGET THAT SUNSCREEN !
The first and most crucial step of the day is to thoroughly cleanse your face. Overnight, your skin goes through a natural recovery and exfoliation process, and it's critical to cleanse out any toxins, dead skin cells, or excess oil that may have been secreted. If you have sensitive or acne-prone skin, take your gentle cleanser, activate the ingredients by massaging it between your palms, and gently apply it all over your face and neck.
When you cleanse your face and remove all impurities, you create a fresh surface for your skincare products to permeate and give you a beautiful natural makeup appearance.
After cleansing your face, pat it dry and apply your favourite lightweight moisturizer. You can use the guide to choosing the right moisturizer for your skin type, so your skin feels fresh and healthy.
Never step out without sunscreen! It is a general thumb rule you need to follow to ensure your skin remains healthy for a long time. The effects of not using sunscreen may appear later in life in the form of dull skin and premature wrinkles that no amount of makeup can cover-up. So be generous while applying sunscreen on your face, ideally, an SPF 30 would do.
2.PRIMER
Your skin demands to be prepared for makeup application unless you want a cakey look or all the products you use to block your pores. Primer, as the name suggests, preps and primes your skin. You might think applying a primer is an unnecessary extra step, but for your extra-long days at work, a primer is a godsend. A tiny bit of primer will increase the longevity of your makeup and make it more resistant to sweat glands.
Applying the primer on your face will make your foundation spread like butter, helping the texture of your skin look smooth. 'To avoid meltdowns, use a primer" is our mantra for long-lasting makeup.
3. BB Cream
Now that your skin has been prepped and primed, we can move on to the makeup application. In the fast-paced world that we live in, who has time to apply both foundation and concealer. The finest all-in-one product for your quick makeup regimen is BB cream, as it can be used as both a foundation and a concealer.
Apply a few dots of BB Cream to your T-zone, paying special attention to your forehead, nose, cheeks, and chin. Now use your foundation brush, beauty blender or just your fingertips to blend it all over your face. The BB Cream will level out your skin's tone and texture while providing a flawless, seamless base. BB creams have added SPF qualities, but do not rely on them entirely, especially if the SPF is less than 30—it is always a good idea to apply sunscreen if you will be exposed to the sun a lot. But yes, BB cream will protect your skin from sun damage while giving it a dewy, luminous look.
4. Contour, blush & highlight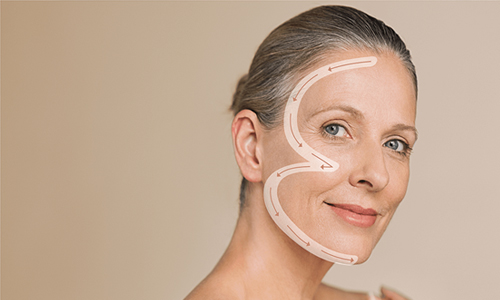 Defining your face after creating the appropriate base for your makeup can give you a more confident and professional appearance. Contour, blush, and highlight are the three simple steps to enhance your facial features.
Yes, applying the contour can be intimidating. We, on the other hand, are here to save the day. In the market, the contour is available in powder, liquid and cream forms. You are free to use whichever option you like and feel most comfortable in. We would suggest getting a contour stick that is easy to apply, or a deeper shade of concealer. The simplest technique to contour is to create a "3" shape that follows the hairline, beneath the cheekbones, and along the jawline. With the contouring brush, blend it in.
The second step is to draw attention to the parts of your face that naturally reflect sunlight. Apply a smidgeon of shimmering highlighter on the bridge and tip of your nose, as well as the tops of your cheekbones and the cupid's bow.
Now, to give your face a natural no-makeup makeup look, apply a smidge of blush on the apples of your cheeks and finish it like a pro. A smart hack for saving money is to use your favourite red/pink shade of lipstick as a blush, just dab some on your fingertips and blend it out.
5. Eyebrows
You can use your favourite eyeshadow palette, eyeliner, and mascara to make your eyes pop and look extravagant. But let's face it, doing your eye makeup takes a lot of patience, so if you don't have much time, just putting on kajal or a stroke of eyeliner, and defining your brows is a must. Many women are unaware of the importance of well-defined brows. In truth, your brows are the most crucial facial characteristics since they establish your face's overall dynamics, and give you a clean look. Fill in your brows with a pencil to pour some sparkle into your eyes.
6. Lipstick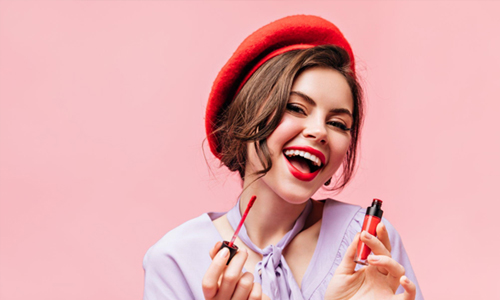 We've almost reached the end of our quick and easy makeup routine. But wait ! You can't leave without highlighting those lush lips of yours. When choosing a lipstick colour, be mindful. Because it not only gives a finishing touch to your face but defines your whole personality. If you want to elicit your bold energy, go with red. Or, if you want to be cool and down to Earth, go with the nude hues. Check out this tutorial to learn how to apply lipstick like a pro.
Next? Put on your finest smile and spritz yourself with your favourite body mist, and you're ready to take on the world. My strong women, go out there, walk and talk boldly, define confidence, and rule the world!
While you do that, let us know what your favourite makeup look is in the comment section below.