"A woman with a voice is by definition a strong woman. But the search to find that voice can be remarkably difficult." – Melinda Gates
This world is not an easy one for women. We face so many challenges and obstacles that men cannot even dream of. In a world like this, women entrepreneurs have achieved success in whatever they do, making them nothing short of an inspiration.
Why is it that whenever you look for a good book about entrepreneurship, most of the authors tend to be men? While such books written by men may be helpful and define a path to success, the experiences of women entrepreneurs are vastly different than that of men. The challenges are varied and often can't be quantified by men, so it is important to learn from the truly incredible women who have proven their expertise.
And with so many great woman entrepreneurs out there doing incredible work and authoring excellent books, it is only fair to keep the balance intact. If you are a person looking for inspiration from women who have, against all odds, transgressed the societal norms that confine women to the contours of a house. Instead, they went out and conquered the world with their ideas.
So here are 10 Must-read books written by women entrepreneurs that definitely should reserve a space on your bookshelf to keep you inspired –
1. BARBARA CORCORAN
Shark Tales: How I Turned $1,000 into a Billion Dollar Business.
Barbara Ann Corcoran is an American entrepreneur, investor, speaker, consultant, syndicated columnist, author, and television personality. She borrowed $1,000 from her boyfriend, quit her job as a diner waitress, and opened a small real estate business in New York City after failing twenty-two prior jobs.
The Corcoran Group is now New York's finest real estate firm, with over $2 billion in revenue, and Barbara is wealthier than she ever imagined. Barbara is now much more well-known for her no-nonsense advice to entrepreneurs on ABC's smash reality show Shark Tank.
Shark Tales is honest, down-to-earth, and as uplifting as it is intelligent. Don't be shocked if you think to yourself after reading it, "If she can do it, so can I!" Barbara would be overjoyed by nothing.
2. RASHMI BANSAL – CONNECT THE DOTS
Rashmi Bansal is a youth specialist, entrepreneur, and writer. She has four popular books about entrepreneurship to her credit and is the editor and co-founder of JAM (Just Another Magazine).
On her blog, Youth Curry, she focuses on youth, careers, and entrepreneurship. "Connect the Dots" is a follow-up to "Stay Hungry, Stay Foolish," and tells the stories of 20 innovative people who launched their businesses without having an MBA. They were motivated by a desire to demonstrate their worth. To live lives that are intriguing, passionate, and meaningful.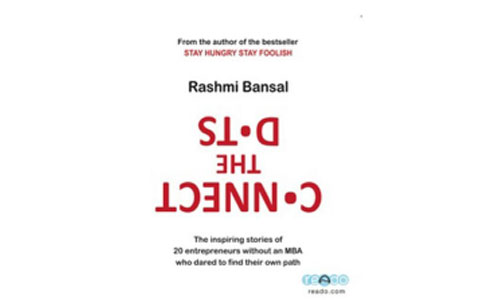 3. SOPHIA AMORUSO- #GIRLBOSS
Sophia Amoruso is the founder and CEO of Girlboss and Nasty Gal. She has established herself as a cultural symbol for a generation of women seeking control over their professions and futures as a creative visionary, modern-day businesswoman, and fashion doyenne. She wrote #GIRLBOSS for those outsiders (and insiders) looking for a unique road to success, even if it's windy and paved with doubters.
#GIRLBOSS demonstrates that success isn't determined by where you attended college or how popular you were in high school. It's all about trusting your intuition and following your instincts; knowing when to stick to the rules and when to break them, and knowing when to button up and when to let your imagination run wild.
4. ARIANNA HUFFINGTON – THRIVE
Arianna Huffington is the co-founder, president, and editor in chief of the Huffington Post Media Group, one of the world's influential news and information companies, and a member of Oprah's SuperSoul 100. She opens up in Thrive about her struggles with time management and prioritizing the demands of a job along with having two daughters—juggling business deadlines and family issues, a frantic dance that led to her collapse and having an "aha moment."
Arianna shows us the way to a revolution in our culture, thinking, workplace, and lives, based on the most recent groundbreaking research and scientific findings in the fields of psychology, sports, sleep, and physiology that shows the profound and transformative effects of meditation, mindfulness, unplugging, and giving.
5. MICHELLE OBAMA – BECOMING
From 2009 to 2017, Michelle Robinson Obama was the First Lady of the United States, one of the most popular and beloved women to hold that position.
She invites readers into her world in her memoir, a work of deep reflection and mesmerizing storytelling, chronicling the experiences that have shaped her — from her childhood on Chicago's South Side to her years as an executive balancing the demands of motherhood and work, to her time spent at the world's most famous address.
She chronicles her achievements and losses, both public and private, with unflinching honesty and vivid wit, presenting her complete life as she has lived it — in her own words and on her terms.
6. HELENA MORRISSEY – A GOOD TIME TO BE A GIRL
Helena Morrissey began her work with Schroder Capital Management in New York. She returned to London in 1994 and joined Newton as a junior fund manager before being promoted to CEO in 2001. She is currently the Chair of the Investment Association, the UK's industry trade organization whose members manage more than £5 trillion in assets.
Helena Morrissey lays out how we could make the next big breakthrough toward a truly inclusive contemporary society in "A Good Time to Be a Girl." Her strategy isn't just about teaching a few more women how to do labor that has outlived its usefulness. Instead, this book lays out a strategy for reinventing the game — not at the expense of males, but in ways that are appropriate and relevant in the digital era. It is a great tool for each one of us to use to achieve our goals.
7. ELIZABETH LESSER –Broken Open: How Difficult Times Can Help Us Grow

Elizabeth Lesser is the co-founder of Omega Institute in Rhinebeck, New York. It is currently the world's biggest center for spiritual retreat and personal improvement, hosting 20,000 people every year at conferences and seminars. The uplifting guide to healing and growth, Broken Open: How Difficult Times Can Help Us Grow, is a New York Times Bestseller. It exposes the richness and promise of every life, even in the face of loss and suffering.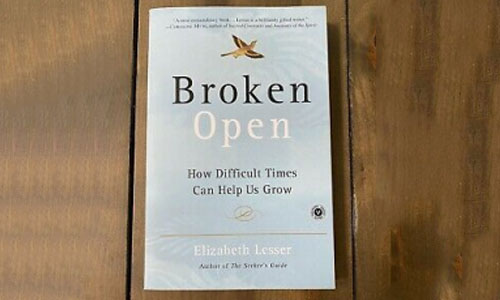 8. KIM SCOTT – RADICAL CANDOR
Kim Scott has worked as a CEO coach for firms such as Dropbox, Qualtrics, Twitter, and others. She formerly served on the faculty at Apple University and oversaw Google's AdSense, YouTube, and Doubleclick operation teams.
Radical candor has been adopted by CEOs of all stripes, at firms of all sizes, all across the globe. The notion has now been extended to a wide spectrum of human connections, making it a cultural landmark.
Radical candor entails both personal care and direct challenge and requesting feedback to better your leadership and offering counsel to help others grow. It emphasizes praise while also acknowledging criticism to help you appreciate your work and the individuals with whom you collaborate.
9. IVANKA TRUMP – THE TRUMP CARD
This New York Times bestseller is a business book for young women on how to achieve success in any field, written by Ivanka Trump, the daughter of business mogul Donald Trump and a rising star in the Trump organization.
It is based on what Ivanka Trump has learned from her father and her own experiences. Ivanka Trump chronicles her childhood as the ultimate Apprentice, the daughter of Donald and Ivana Trump, and provides the life lessons and hard-won insights that have pushed her to the peak of the business world.
Ivanka's advice for young women is invaluable, whether it's for finding your first job, navigating the workplace, or creating a lasting impression.
10. Indra K. Nooyi – My Life in Full
From 2006 until 2019, Indra K. Nooyi was the CEO and Chairman of PepsiCo. She is one of the world's most sought-after counselors to entrepreneurs and CEOs, because of her foresight into consumer behavior and expertise in managing a large, worldwide workforce.
My Life in Full is the story of an extraordinary leader's life, a moving tribute to the relationships that created it, and a blueprint for 21st-century prosperity. Generous, authoritative, and grounded in lived experience.

Studies indicate that having visible role models who look like you has a significant impact on young people's goals. For the next generation of female entrepreneurs, setting examples of these successful women and learning their experiences is motivating, note-worthy, and helpful in the future.